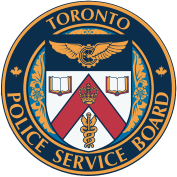 TORONTO: The next scheduled meeting of the Toronto Police Services Board will take place on Wednesday July 27, 2022 at 9AM.
The agenda is available on the Board's website at: https://tpsb.ca/meetings/meetings-past.
Members of the public who wish to make a deputation may register using the regular process, at https://www.tpsb.ca/meetings/making-a-deputation. The request must be received no later than 12:00pm on Tuesday July 26, 2022.
Hybrid meeting format and associated public health guidance
The Board's meeting will proceed as a hybrid meeting, like last month.
As we continue the transitions required with the evolving COVID-19 pandemic, and in an effort to make our meetings as accessible as possible to the general public, our hybrid meeting model will have a limited number of in-person participants, including members of the public. Several Board Members, along with a limited number of Board Office staff and Toronto Police Service Members, will also attend in-person. Every effort will be made to ensure as many members of the public who wish to attend, given room capacity limits and public health guidance, can do so safely. Attendance for members of the public will proceed through a simple on-line process, and will be determined on a first-come, first-served basis.
We must, as always, proceed in a way that ensures the health and safety of all those participating in Board meetings is protected. We ask that individuals attending in-person consider the guidance provided by Toronto Public Health, including that "[m]asks are strongly recommended in indoor public settings," and that "[w]earing a mask, in addition to physical distancing, reducing your contacts, getting vaccinate and other public health measures, can reduce the spread of COVID-19."
Sign-up to attend in-person, make a deputation
The seating available for members of the public is limited, and we prioritize those individuals who require accommodation.
If you wish to sign up to make a deputation on an item, please use our Making a Deputation sign-up form: https://www.tpsb.ca/meetings/making-a-deputation. Registered deputants will have the option of making their deputation in-person, if space permits, or virtually. Virtual deputations would be available either by video via WebEx, or audio-only by phone.
To request in-person attendance at the July 27 Board meeting, please use the following sign-up form: https://tpsb.ca/meetings/attend-in-person.
Requests for in-person attendance will be added to a list, in the order in which they are received. Confirmation for in-person attendance will be sent out on a first-come, first-served basis, on the business day before the meeting, shortly after noon. In-person attendance cannot be guaranteed, given the limited seating availability. However, the virtual options to participate that have been made available during the pandemic continue to be available for everyone. Please note that those who sign up to give a deputation in person are not required to also sign up to attend separately.
Ensuring accessibility
While in-person attendance is limited at this time, we encourage all interested members of the public to join our meeting, either to participate as a deputant, or as an observer.
Deputants are able to join the meeting and make a deputation virtually, using the WebEx platform, either via video or audio-only.
In addition, members of the public and media are welcome and encouraged to attend the meeting as an observer through our livestream at: https://youtu.be/M2ztGgbL95I.
Items of Interest at this virtual Board meeting include:
INTIMATE PARTNER VIOLENCE PRESENTATION
The Board will hear a presentation from Detective LeeAnn West, Intimate Partner Violence Coordinator, Sex Crimes Unit, Toronto Police Service, regarding the Service's approach to intimate partner violence cases. The presentation will highlight the Service's focus on supporting victims of Intimate Partner Violence and their children, including the work being done with community partners to ensure referrals, and building effective partnerships with community support agencies , as well as efforts around education and enforcement, including utilizing a preventative approach in collaboration with the community. It will include information on relevant working groups and committees, including the Domestic Violence Advisory Committee, the Victim Witness Assistance Program (VWAP), Domestic Violence Court Advisory Committee, the High Risk Offender Program, Partner Assault Response (PAR) Programs, and work being done with probation and parole.
9-1-1 CRISIS CALL DIVERSION
The Board will consider a report from Chief Ramer and hear a presentation from Staff Superintendent Randy Carter regarding the 9-1-1 Crisis Call Diversion Pilot Program, a collaboration between the Service, and the Gerstein Crisis Centre. The pilot was aimed at connecting people in crisis, where there is no imminent risk, with the appropriate resources to divert the need for police to respond to these non-emergency events.
This pilot project offers 9-1-1 callers the opportunity to speak to a crisis worker from the
Gerstein Crisis Centre rather than police attending their location and responding to the situation. In June of this year, this pilot project was extended for a second year.
The report and presentation will detail the summary of the pilot, which took place from October 4, 2021 to April 4, 2022, including the events returned by the crisis worker for a police response, a percentage which decreased as the pilot progressed. The report and presentation will also outline the events that were successfully diverted from a police response through the use of the pilot. Pathways to care, and connections to community partners are also discussed.
SENIOR OFFICER PROMOTIONS
The Board will consider a report from Chief Ramer with the recommendation that the Board approve the eligibility list of 16 Superintendents as listed in the report. As noted in the report, approximately one-third (31%) of successful candidates were female and this is consistent with the proportion of female applicants in the process and greater than the typical gender make up within the Service (25% female). Also as noted, approximately one-third of successful candidates (37.5%) self-identified as having a diverse racial background, compared to 32% of applicants.
AWARD OF MEDAL OF MERIT
The Board will consider a report from the Chief, recommending the awarding of a Medal of Merit to Police Constable Johnny Amatuzio, Police Constable Steven Hawley, Police Constable Laura MacKasey, Police Constable Mihail Kochankov, Police Constable Steevens Audige and Police Constable Rebecca Gaudreau. A Medal of Merit is the second highest award that can be granted to a police officer or civilian Member. It can be awarded in response to an outstanding act of personal bravery or in recognition of highly meritorious police service.
As the report details, these officers responded to an incident in which a man in crisis was hanging from a building, threatening to jump. Even when placed in imminent danger, and being subjected to considerable injury and risk, they worked compassionately, courageously and collaboratively to save the man. As the report notes, these officers continually assessed the situation and changed their approach as needed, being adaptable and thinking several steps ahead. They focused on a successful life-saving resolution, working collaboratively within themselves and with the shelter staff who were assisting.
As with all meetings, a recording of this meeting will be posted and archived to the Toronto Police Service YouTube account at https://www.youtube.com/TorontoPolice for members of the public to access later at their convenience.
We will keep the public and media updated on any future changes to the format of our meetings.
---
The Toronto Police Services Board is the civilian body responsible for governing the Toronto Police Service. The Board is responsible for ensuring the provision of adequate and effective police services in the City of Toronto, setting priorities and objectives for the Toronto Police Service, approving the annual police budget and selecting the Chief of Police.
---

Contact: Sandy Murray
sandy.murray@tpsb.ca
416-808-8090


You received this email because you subscribed to this mailing list on the TPSB website. Click here to Unsubscribe