Police Board to meet Wednesday January 22, 2020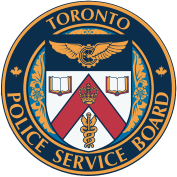 TORONTO: The next scheduled meeting of the Toronto Police Services Board will take place on Wednesday January 22, 2020 at 1:30 PM in the Auditorium, 40 College Street. Copies of the agenda are available on the Board's website at www.tpsb.ca, from the Board office and limited copies will be available at the meeting.
The Board meeting may be viewed via LiveStream on YouTube using the following link:
https://youtu.be/FWSP8FY0dKk.
Those members of the public who would like to make a deputation to the Board regarding an item on the agenda should refer to the Notice for Making a Deputation at this link.

Items of interest include:
SWEARING-IN OF NEW BOARD MEMBER
The Province of Ontario has appointed Mr. Ainsworth Morgan to the Board for a term of three years. Mr. Morgan will attend his first Board meeting on January 22, 2020 where he will be officially sworn in as a Member.
ELECTION OF CHAIR AND VICE-CHAIR
In accordance with section 28 of the Police Services Act, which provides that the Board is required to elect a Chair at its first meeting in each year, the Board members will elect a Chair of the Toronto Police Services Board. The Board will also elect a Vice-Chair.
UPDATE FROM BOARD'S MENTAL HEALTH AND ADDICTIONS ADVISORY PANEL (MHAAP)
The Board will consider a report and hear a presentation from Steve Lurie and Jennifer Chambers, Mental Health and Addictions Advisory Panel (MHAAP) Co-Chairs, regarding an update on MHAAP's work. As noted at the time of its establishment, the work of MHAAP has as its main objective "to review the implementation of the Mental Health and Addictions Strategy and to provide ongoing advice to the Board with respect to this important work." The report details the first two MHAAP meetings, the content covered and the proposed workplan going forward.
REQUEST FOR ADDITIONAL BUDGET FUNDING FOR MISSING PERSONS INVESTIGATIONS
Chair Jim Hart will present a report requesting additional funds be allocated to the Independent Civilian Review into Missing Persons Investigations. With the Board-approved expansion of the Review's Terms of Reference to include matters associated with the Bruce McArthur case, the Review has determined that it requires an additional $1,000,000 to complete its work. The Review is confident that it will meet its final report deadline of January 2021. If the Board approves this request, it will be necessary to refer the Board's decision to the City's Budget Committee for consideration during the City's 2020 Budget process.
---
The Toronto Police Services Board is the civilian body responsible for governing the Toronto Police Service. The Board is responsible for ensuring the provision of adequate and effective police services in the City of Toronto, setting priorities and objectives for the Toronto Police Service, approving the annual police budget and selecting the Chief of Police.
---
Contact:
Danielle Dowdy
Danielle.Dowdy@tpsb.ca
416-808-8094