Notice of Special Confidential Board Meeting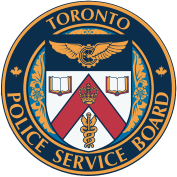 In accordance with section 12 of the Board's Procedural By-Law, a Special Confidential Board Meeting has been scheduled for February 10, 2022 at 3 p.m., where Chief Ramer will brief the Board on Toronto Police Service plans for the anticipated "Freedom Convoy." Matters that will be discussed at this meeting fall under section 35(4) of the Police Services Act, as the meeting content relates to the Service's operational plan.

---
The Toronto Police Services Board is the civilian body responsible for governing the Toronto Police Service. The Board is responsible for ensuring the provision of adequate and effective police services in the City of Toronto, setting priorities and objectives for the Toronto Police Service, approving the annual police budget and selecting the Chief of Police.
---
Unsubscribe