Police Board to hold Virtual Meeting on Thursday May 20, 2021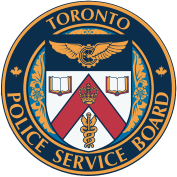 TORONTO: The next scheduled meeting of the Toronto Police Services Board will take place on May 20, 2021 at 9AM.

Given the current COVID-19 pandemic, and to protect the health and well-being of all involved while adhering to provincial and Toronto Public Health orders and guidance, this Board Meeting will proceed as a virtual meeting. Members of the public and media are welcome and encouraged to attend the meeting through our livestream at
https://youtu.be/9jzyo9n6LzU.

The agenda is available on the Board's website at: https://www.tpsb.ca/meetings/meetings-current-and-past.

Members of the public who wish to make a deputation may register using the regular process, at https://www.tpsb.ca/meetings/making-a-deputation. The request must be received no later than 12:00pm on Wednesday May 19, 2021.

Items of Interest at this virtual Board meeting include:

PRESENTATION – CHILD & YOUTH ADVOCACY CENTRE (CYAC)
Acting Deputy Chief Myron Demkiw and Detective Sergeant Greg Payne will provide a presentation to the Board on the Child & Youth Advocacy Centre (CYAC). Toronto's first CYAC opened on October 1, 2013, and includes co-located services that provide a coordinated, multi-disciplinary team approach to the investigation, prosecution and treatment of child abuse. The objective of the CYAC is to provide a seamless response to child abuse victims in a "child-friendly" environment that is both physically and psychologically safe for children, youth and families. The presentation will also outline the investigative and other enhancements achieved through the CYAC's work, including collaboration between partner agencies before and throughout the investigation, improved information-sharing, and case reviews with partner child protection, medical and mental health experts.

PRESENTATION – MODERNIZING OUR RELATIONSHIPS: THE COMMUNITY PARTNERSHIPS AND ENGAGEMENT UNIT
Superintendent Stacy Clarke will provide a presentation to the Board entitled, "Modernizing our Relationships," which highlights the important work of the Service's Community Partnerships & Engagement Unit (CPEU). The Service's CPEU is committed to providing an outcome-focused, effective and efficient support service to Service Members in the practical application of Community Mobilization principles, as well as developing, enhancing and maintaining constructive community partnerships. The modernized workplan of CPEU is founded in the new Unit Mission Statement: "We are open and committed to actively listening to and receiving community concerns, and working with our community partners to coordinate embrace strategic data-driven positive outcomes and impacts." The presentation will include a timeline and roadmap for the various initiatives involved in CPEU's modernization and includes details of a partnership assessment tool to ensure that the partners that the Service engages with have a strong and clear community-driven mission, experienced leadership, as well as an organizational framework for ensuring programmatic success.

SUPPORT FOR BILL TO PREVENT GAS AND DASH
The Board will consider a report from Mr. Ryan Teschner, Executive Director & Chief of Staff, recommending that the Board provide a letter of support for Bill 231 (Protecting Ontarians by Enhancing Gas Station Safety to Prevent Gas and Dash Act, 2020). Bill 231 would create "a mandatory system of fuel prepayment" to prevent gas and dash incidents, which occur with some regularity in Toronto, and have even resulted in death. Bill 231 includes mechanisms that could, if implemented, improve the safety of gas attendants and reduce gas theft occurrences.


As with all meetings, a recording of this meeting will be posted and archived to the Toronto Police Service YouTube account at https://www.youtube.com/TorontoPolice for members of the public to access later at their convenience.
---
The Toronto Police Services Board is the civilian body responsible for governing the Toronto Police Service. The Board is responsible for ensuring the provision of adequate and effective police services in the City of Toronto, setting priorities and objectives for the Toronto Police Service, approving the annual police budget and selecting the Chief of Police.
---
Contact: Sandy Murray
sandy.murray@tpsb.ca
416-808-8090