New Items Added to Police Board Meeting on June 19, 2020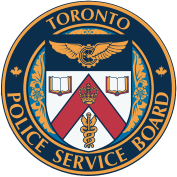 TORONTO: As has been previously announced, the next scheduled meeting of the Toronto Police Services Board will take place on June 19, 2020 at 9:00 AM.

Please note that two additional items have been added to the agenda. The first is a report from Chair Hart entitled, "Recommendations for the Board related to Current Events." The report includes recommendations with respect to the Board's Anti-Racism Advisory Panel (ARAP), the Board's Mental Health and Addictions Advisory Panel (MHAAP), the Mobile Crisis Intervention Team (MCIT) program, the police budgeting process, and modernization initiatives, along with other matters.

The second is a report from the Chief recommending the execution of an agreement for the Basic Constable Training Program to be delivered at the Toronto Police College. As the report notes, this training is usually delivered at the Ontario Police College but was suspended as a precaution related to the COVID-19 pandemic. The satellite delivery of this training at the Toronto Police College would allow the current recruits to complete their required training.

Given the current COVID-19 pandemic, and to protect the health and wellbeing of all involved while adhering to provincial emergency orders, this Board Meeting will proceed as a virtual meeting. Members of the public and media are welcome and encouraged to attend the meeting through our livestream at https://youtu.be/iG3_1yGlNFM. The agenda is available on the Board's website at: https://tpsb.ca/meetings/meetings-past.

Members of the public who wish to make a deputation may register using the regular process, at https://www.tpsb.ca/meetings/making-a-deputation. The request must be received no later than 12:00pm on Thursday June 18, 2020. Once registered, deputants will be contacted directly by email with instructions as to how to provide their deputation. When registering, deputants must ensure that they provide an up-to-date e-mail address and telephone number so that they may be reached for follow-up. Individuals who are unable to join the meeting virtually, and require an accommodation should contact the Board's Administrator, Ms. Diana Achim, at diana.achim@tpsb.ca.

As with all meetings, a recording of this meeting will be posted and archived to the Toronto Police Service YouTube account at https://www.youtube.com/TorontoPolice for members of the public to access later at their convenience.
---
The Toronto Police Services Board is the civilian body responsible for governing the Toronto Police Service. The Board is responsible for ensuring the provision of adequate and effective police services in the City of Toronto, setting priorities and objectives for the Toronto Police Service, approving the annual police budget and selecting the Chief of Police.
---
Contact: Sandy Murray
sandy.murray@tpsb.ca
416-808-8090