Toronto Police Services Board to hold Special Board Meeting to consider decision-making approach for urgent matters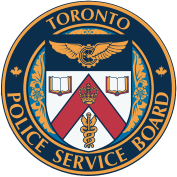 The Chair has called a Special Board Meeting to take place on March 26, 2020, pursuant to section 12.1 of the Board's Procedural By-law. This meeting will begin at 4:00pm. At this meeting, the Board will consider only one report that recommends a decision-making mechanism for the Board to address future potential urgent and time-sensitive items, as well as to maintain the timely and consistent flow of information related to the Toronto Police Service's efforts concerning the COVID-19 pandemic.
The agenda is available on the Board's website at www.tpsb.ca.
Given the current COVID-19 pandemic, and to protect the health and wellbeing of all involved, this Special Board Meeting will proceed as a tele-meeting, with Board Members joining by telephone. Members of the public and media are welcome and encouraged to call in to the tele-meeting live by dialing in at 416-641-6104, and entering passcode 1061538, followed by the # key. As with all of our meetings, this meeting will be livestreamed at https://youtu.be/ikhZs48rzy4. An audio recording of this meeting will be posted and archived to the Toronto Police Service YouTube account at https://www.youtube.com/TorontoPolice, for members of the public to access at their convenience.
Members of the public who wish to make a deputation during the tele-meeting may register to do so, as usual, at the following link on the Board's website: tpsb.ca/meetings/making-a-deputation. The request must be received no later than 12:00pm on Thursday, March 26, 2020. Once registered, deputants will be contacted directly via email with instructions as to how to provide their deputation. When registering, deputants must ensure that they provide an up-to-date e-mail address and telephone number so that they may be reached for follow-up.
The Board believes that holding a Special Board Meeting in this way at this time is the appropriate and responsible approach in the current circumstances, as governments, public authorities and members of the public all work together to address the unique and difficult challenges presented by the pandemic.
As we all continue to navigate through this rapidly evolving and dynamic situation, the Board remains committed to ensuring that its governance and oversight role function appropriately. Members of the public should also have the utmost confidence that both the Toronto Police Service and the Toronto Police Services Board remain focused on the public safety of our city.
The Toronto Police Services Board is the civilian body responsible for governing the Toronto Police Service. The Board is responsible for ensuring the provision of adequate and effective police services in the City of Toronto,
setting priorities and objectives for the Toronto Police Service,
approving the annual police budget and selecting the Chief of Police.
Contact: Sandy Murray
sandy.murray@tpsb.ca
416-808-8090