Toronto Police Services Board elects Interim Chair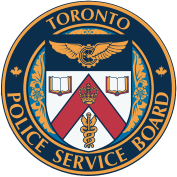 At today's meeting of the Toronto Police Services Board, the Board held an election to name an Interim Chair, electing Mr. Jim Hart.
Mr. Hart has spent the majority of his career working for the City of Toronto in a variety of areas, including the City Manager's Office, Municipal Licensing and Standards, and finally, as the General Manager of Parks, Forestry and Recreation, retiring from that position in 2014. In June 2017, Mr. Hart was appointed to City of Toronto Council as the representative for Ward 44 – Scarborough East, to complete the term of the late Councillor Ron Moeser. While a Councillor, Mr. Hart served on the Toronto Police Services Board, including as its Vice-Chair.
The Toronto Police Services Board is the civilian body responsible for governing the Toronto Police Service. The Board is responsible for ensuring the provision of adequate and effective police services in the City of Toronto, setting priorities and objectives for the Toronto Police Service, approving the annual police budget and selecting the Chief of Police.
Contact:
Sandy Murray
www.tpsb.ca
Senior Advisor, Toronto Police Services Board
(416) 808-8090