Police Board to meet Wednesday July 31, 2019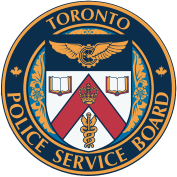 TORONTO: The next scheduled meeting of the Toronto Police Services Board will take place on Wednesday July 31, 2019 at 1:30 PM in the Auditorium, 40 College Street. Copies of the agenda are available on the Board's website at www.tpsb.ca, from the Board office and limited copies will be available at the meeting.
The Board meeting may be viewed via LiveStream on YouTube using the following link:
https://youtu.be/h0Q-LEbvKS0
.
Those members of the public who would like to make a deputation to the Board regarding an item on the agenda should refer to the Notice for Making a Deputation at this link.
Items of interest include:
PRESENTATION: MENDING A CRACK IN THE SKY
The Board will hear a presentation from Midaynta Community Services on their program, Mending a Crack in the Sky (MCIS). MCIS is a dynamic program that consists of a dedicated group of mothers who are passionate about creating safe spaces to heal, engage in transformative community change and activism. The core group is made up of Somali mothers, who have lost their loved ones due to violence in the community.
MEDAL OF MERIT – SERGEANT MICHAEL FONSECA
The Board will consider a report from the Chief recommending the awarding of a medal of merit to Sergeant Michael Fonseca. A Medal of Merit is the second highest award that can be granted to a police officer or civilian member. It can be awarded in response to an outstanding act of personal bravery or in recognition of highly meritorious police service. The recommendation to award Sgt. Fonseca the medal of merit arises from a situation in which he saved two elderly neighbours from an extremely dangerous fire and potential explosion.
AGREEMENT WITH CITY OF TORONTO REGARDING TRAFFIC AGENTS
The Board will consider a report from the City Solicitor, Legal Services, recommending that the Board approve an agreement between the Board and the City of Toronto regarding the appointment and governance of traffic agents as special constables. As the report notes, after several months of negotiations between representatives of the Toronto Police Service and the City of Toronto, the parties have developed an agreement that will govern the appointment of City Traffic Agents (CTAs), which have been renamed from "traffic wardens" as Special Constables to assist them in carrying out their functions. The agreement sets out details for the CTAs in a number of areas, including their powers, the applicable complaints process, the training to be provided,