Police Board to meet Thursday January 24, 2019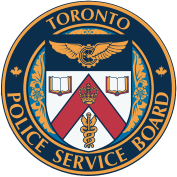 TORONTO: The next scheduled meeting of the Toronto Police Services Board will take place on Thursday January 24, 2019 at 1:00 PM in the Auditorium, 40 College Street. Copies of the agenda are available on the Board's website at
www.tpsb.ca
, from the Board office and limited copies will be available at the meeting.
The Board meeting may be viewed via LiveStream on YouTube using the following link:
https://youtu.be/NfK0pv-gO9Y
.
Those members of the public who would like to make a deputation to the Board regarding an item on the agenda should refer to the
Notice for Making a Deputation at this link
.
Items of interest include:
ELECTION OF CHAIR AND VICE-CHAIR
In accordance with section 28 of the Police Services Act, which provides that the Board is required to elect a Chair at its first meeting in each year, the Board members will elect a Chair of the Toronto Police Services Board. The Board will also elect a Vice-Chair.
2019 BUDGET REQUESTS FOR THE TORONTO POLICE SERVICE AND BOARD
The Board will hear presentations and consider reports from the Chief with respect to the 2019 operating and capital budget requests for the Toronto Police Service and the 2019 operating budget request for the Parking Enforcement Unit.
The Board will also hear a presentation and consider a report from the Chair with respect to the Board's 2019 operating budget request.
CHANGES TO ESTABLISHMENT OF COURT OFFICERS
The Board will consider a report from the Chief recommending an increase of 95 positions in the establishment of full-time Court Officers from the current 380 to 475, and a decrease in the part-time establishment by 95 positions. As the report notes, as an element of the Service's modernization plan, the Special Constable program, of which Court Officers are a part, is currently being developed to maximize the utility and support of all aspects of policing operations. It is recommended that these positions be transitioned to full-time status in order to reflect the reality of the work these members perform. As the report notes, the budget impact of this recommendation will be negligible, as the current part-time Court Officers are working full-time hours and are, therefore, compensated at a similar amount as full-time Court Officers.
Contact:
Sandy Murray
sandy.murray@tpsb.ca
416-808-8090