Board Congratulates Police Excellence Award Winners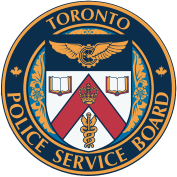 The winners of the 55th annual Police Excellence Award were announced during a special ceremony on Wednesday May 25 at Hotel X in Toronto.

This prestigious awards ceremony recognizes the following awards:
Police Officer Excellence Awards, including the Police Officer(s) of the Year Award
Business Excellence Award
Civilian Excellence Award
This event's focus was to recognize and pay tribute to the devoted, brave and compassionate Members of the Toronto Police Service, who are committed, every day, to making Toronto one of the safest and most liveable cities in the world.

A group of 23 Division officers - Sgt. Brian James and Consts. Ramandeep Singh, Kwabena Saffu, Deanna Jovanovich and Nicholas Ditlof - who rescued a young child from falling from a three-storey window, were honoured with the Police Officer(s) of the Year Award. These dedicated officers worked as a cohesive, effective and compassionate team, and through their extraordinary actions, were able to make a very volatile situation safe, and bring comfort to those involved.

The Police Excellence Awards were created by the Board of Trade in 1967 as the Police Officer of the Year Awards, with the purpose of recognizing officers of the Toronto Police Service who have made significant contributions to making Toronto one of the safest cities in the world.

The awards have evolved over time, and have since been expanded to include the Service's civilian Members as well. Winners are selected by a panel of judges which include media representatives, members of the community, and students, using the following criteria: bravery, humanitarianism, superior investigative work and outstanding police skills.

The complete list of winners of this year's Police Excellence Awards are:
Sgt. Brian James, PC Nicolas Ditlof, PC Deanna Jovanovich, PC Kwabena Saffu, and PC Ramandeep Singh
Sgt. Timothy Whittle, PC Jean Bresse, PC Corey Dunk, PC Matthew Palma and PC Michael Sanguinetti
PC Marek Mostowski and PC Marland Thompson
PC Ivan Yeung
Sgt. Josh Mc Sweeney, PC Jan-Michael Kruczek and PC Kevin Stevenson
PC Rudy Kramer, PC Aaron Broad and PC Danny Pitre
PC Edward O'Toole, PC Chad Pullen and PC Matthew Saris
DC Zachary Firth
Sgt. Duane St Jean, PC Deanna Jovanovich, PC Satbir Kullar and PC Michael Phaneuf
PC Daniel Kooy
This year's winners of the Civilian Excellence Award are:
Court Officer Harrison Marshall
Court Officer Paul Hawke
This year's winners of the Business Excellence Award are:
Mark Jones, Analytics and Innovation
Scott Mackey, Analytics and Innovation
Katherine Ziebarth, Analytics and Innovation
Detective Constable Jason Reynolds, Sex Crimes
All of the winners' stories can be found here: https://tpsb.ca/police-excellence-awards

Chair Jim Hart noted that our Members are "out there, on our streets, and working behind the scenes, each and every day, making our city safer, kinder and better. I know that you face great danger with selfless courage, and deal with countless situations of chaos, sadness and risk with your trademark professionalism, care and dedication." To Toronto Police Service Members, he stated:, "You are not just saving lives, you are changing lives. You are reminding people daily that policing is not simply enforcement – it is serving and protecting all members of our communities in a way that is professional, innovative, strategic, compassionate, kind, proactive and equitable."

For more information about the Police Excellence Awards, go to: https://www.policeawards.ca/
---
The Toronto Police Services Board is the civilian body responsible for governing the Toronto Police Service. The Board is responsible for ensuring the provision of adequate and effective police services in the City of Toronto, setting priorities and objectives for the Toronto Police Service, approving the annual police budget and selecting the Chief of Police.
---
Contact: Sandy Murray
sandy.murray@tpsb.ca
416-808-8090
You received this email because you subscribed to this mailing list on the TPSB website.

Click here to Unsubscribe