Delegation: Appointment and Promotions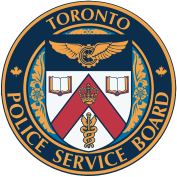 DATE APPROVED

January 24, 1991

Minute No: P20/91

DATE(S) AMENDED

December 15, 1994

January 28, 1999

May 29, 2003

October 18, 2007

November 15, 2010

Minute No. P583/94

Minute No: P33/99

Minute No. P136/03

Minute No. P332/07

Minute No: P292/10

DATE REVIEWED

November 15, 2010

Minute No: P292/10

REPORTING REQUIREMENT

Chief to report to Board annually at its February meeting on promotions to the ranks of Sergeant/Detective and Staff/Detective Sergeant.

LEGISLATION

Police Services Act, R.S.O. 1990, c.P.15, as amended, ss. 31(1)(a)(c), 34, 43(1), 45, 52(1), 53 (1)(6).

DERIVATION

 
The Toronto Police Services Board is responsible for the appointment, promotion and reclassification of members, including auxiliary members, of the Toronto Police Service. The Board is also authorized to appoint special constables. Candidates for appointment as a police officer will meet the conditions as prescribed by the Police Services Act, and any other conditions as established by the Board from time to time. 
It is the policy of the Toronto Police Services Board that: 
Delegation 
Authority to appoint and promote members of the Service, excluding uniform and civilian senior officer ranks and excluded positions, will be delegated to the Chair and Vice Chair of the Board. 
Uniform senior officer ranks include: 

Inspector
Staff Inspector
Superintendent
Staff Superintendent 
Civilian senior officer ranks include: 

Members as set out in Schedule "A" of the Civilian Senior Officers Collective Agreement 
Civilian members known as Excluded Personnel.