Civilian Promotions and Appointments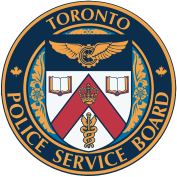 DATE APPROVED

October 18, 2007

Minute No: P332/07

DATE(S) AMENDED

November 15, 2010

Minute No: P292/10

DATE REVIEWED

November 15, 2010

Minute No: P292/10

REPORTING REQUIREMENT

Chief to report to Board annually (attach list of promotions throughout year).

LEGISLATION

Police Services Act, R.S.O. 1990, c.P.15, as amended, s. 31(1)(c).

DERIVATION

Rules: 3.13.1 to 3.13.2 Civilian – Permanent Employees

3.14.1 Civilian – Temp, Co-operative Education, Summer Help

6.8.1 to 6.8.2 Civilian Promotions

The Toronto Police Services Board is responsible for the appointment, promotion and reclassification of members, including auxiliary members of the Service.  Promotional practices will promote and facilitate greater participation in, and greater access to, employment and promotion by members of diverse groups at all levels of the Service. 
It is the policy of the Toronto Police Services Board that: 
The Chief of Police will ensure that job descriptions for all civilian classifications are developed and maintained. Job descriptions will reflect legitimate requirements and standards of the job and will be evaluated on a continual basis to ensure  that the requirements are bona fide and updated as appropriate; 
The creation of new positions or new job descriptions must be approved by the Board; 
Vacancies in the establishment for civilian positions of Class 5 and above in bargaining units A, B and C, with the exception of Station Duty Operators and newly created positions in the establishment in any of the civilian bargaining units, will be advertised in a job call throughout the Service;
Notices and advertisements for all vacant positions will not contain unnecessary or discriminatory barriers that would screen out potential employees for reasons unrelated to qualifications, merit, or occupational requirements; 
Station Duty Operators will be governed by the transfer process outlined in the Memorandum of Understanding currently in place; 
All appointments or promotions to a senior officer rank and excluded positions will be submitted to the Board for approval on an individual basis; and 
Authority to appoint and promote civilian members of the Service, excluding senior officer ranks and excluded positions, will be delegated to the Chair and Vice Chair of the Board.