Cancellation of Toronto Police Services Board's Meeting Scheduled for April 23, 2020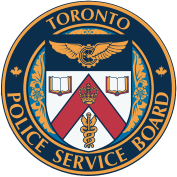 Please be advised that Chair Jim Hart has
cancelled
the Board meeting scheduled for Thursday April 23, 2020.
It is anticipated that a meeting will be scheduled for May and more details about that meeting will be announced in the near future.
In meantime, the Board has put in place a mechanism to ensure certain decisions can be made in a timely manner during the COVID-19 pandemic. At its Special Meeting of March 26, 2020, the Board delegated some of its authority to the Board's Chair and Vice-Chair pursuant to section 34 of the
Police Services Act
. This delegation of authority is limited to specific categories of decisions and must be for matters that are
urgent
and
operationally necessary
. The delegation of authority will expire at the next regular meeting of the Board. To ensure transparency in decision-making, and to keep the public apprised of the Board's actions, all decisions by the Board's delegates are summarized and posted on our website at the following link:
https://www.tpsb.ca/meetings/delegates-decisions
.
As we all continue to navigate through this rapidly evolving and dynamic situation, members of the public should have the utmost confidence that both the Toronto Police Service and the Board are committed to maintaining public safety. The Board, as always, is actively engaged in its civilian governance and oversight roles. As the employer of almost 8,000 Members of the Toronto Police Service, the Board is also heavily focused on the health and wellbeing of our Members.
The Board and its staff are in constant contact with Chief Saunders, as well as with City officials who are engaged in COVID-19-related efforts. We will continue to monitor developments as they unfold, and make decisions that are guided by expert advice and the public interest.
---
The Toronto Police Services Board is the civilian body responsible for governing the Toronto Police Service. The Board is responsible for ensuring the provision of adequate and effective police services in the City of Toronto, setting priorities and objectives for the Toronto Police Service, approving the annual police budget and selecting the Chief of Police.
---
Contact: Sandy Murray
sandy.murray@tpsb.ca
416-808-8090