Police Board to hold Hybrid Meeting on Wednesday, June 22, 2022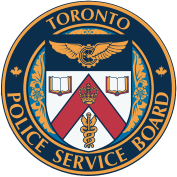 TORONTO: The next scheduled meeting of the Toronto Police Services Board will take place on Wednesday June 22, 2022 at 9AM.

The agenda is available on the Board's website at: https://tpsb.ca/meetings/meetings-past.

Members of the public who wish to make a deputation may register using the regular process, at https://www.tpsb.ca/meetings/making-a-deputation. The request must be received no later than 12:00pm on Tuesday June 21, 2022.

Hybrid meeting format and associated public health guidance

The Board's meeting will proceed as a hybrid meeting. This is consistent with recent changes by the City of Toronto in the way it is holding its City Council and Committee meetings.

As we continue the transitions required with the evolving COVID-19 pandemic, and in an effort to make our meetings as accessible as possible to the general public, our hybrid meeting model will have a limited number of in-person participants, including members of the public. Several Board Members, along with a limited number of Board Office staff and Toronto Police Service Members, will also attend in-person. Every effort will be made to ensure as many members of the public who wish to attend, given room capacity limits and public health guidance, can do so safely. Attendance for members of the public will proceed through a simple on-line process, and will be determined on a first-come, first-served basis.

We must, as always, proceed in a way that ensures the health and safety of all those participating in Board meetings is protected. We ask that individuals attending in-person consider the guidance provided by Toronto Public Health:

It is strongly recommended to wear a well-fitting, high quality mask, especially in indoors public settings. Wearing a mask, in addition to physical distancing, reducing your contacts, getting vaccinated and other public health measures, can reduce the spread of COVID-19, and is an important measure we can still use to protect ourselves and one another.
For those who attend the meeting, pursuant to Toronto Public Health guidance, "[m]asks are strongly recommended in indoor public settings." As a result, the Board is recommending masking and physical distancing, and especially masking where physical distancing is not consistently possible.
Sign-up to attend in-person, make a deputation
The seating available for members of the public is limited, and we prioritize those individuals who require accommodation.
If you wish to sign up to make a deputation on an item, please use our Making a Deputation sign-up form:
https://www.tpsb.ca/meetings/making-a-deputation
. Registered deputants will have the option of making their deputation in-person, if space permits, or virtually. Virtual deputations would be available either by video via WebEx, or audio-only by phone.
To request in-person attendance at the June 22 Board meeting, please use the following sign-up form:
https://www.tpsb.ca/meetings/attend-in-person
.
Requests for in-person attendance will be added to a list, in the order in which they are received. Confirmation for in-person attendance will be sent out on a first-come, first-served basis, on the business day before the meeting, shortly after noon.
In-person attendance cannot be guaranteed, given the limited seating availability. However, the virtual options to participate that have been made available during the pandemic continue to be available for everyone.
Ensuring accessibility
While in-person attendance is limited at this time, we encourage all interested members of the public to join our meeting, either to participate as a deputant, or as an observer.
Deputants are able to join the meeting and make a deputation virtually, using the WebEx platform, either via video or audio-only.
In addition, members of the public and media are welcome and encouraged to attend the meeting as an observer through our livestream at:
https://www.youtube.com/watch?v=b--qTDB__Ao
Items of Interest at this virtual Board meeting include:
POLICE OFFICER OF THE YEAR AWARDS
The Board will congratulate the winners of the Police Officer of the Year Awards. A group of 23 Division officers - Sgt. Brian James and Consts. Ramandeep Singh, Kwabena Saffu, Deanna Jovanovich and Nicholas Ditlof - who rescued a young child from falling from a three-storey window, were honoured with the Police Officer(s) of the Year Award last month. These dedicated officers worked as a cohesive, effective and compassionate team, and through their extraordinary actions, were able to make a very volatile situation safe, and bring comfort to those involved.
CRIME STOPPERS PRESENTATION
The Board will hear a presentation regarding the Crime Stoppers program from Sean Sportun, Chair, Toronto Crime Stoppers, and Detective Marc Madramootoo, Coordinator, Toronto Crime Stoppers. This presentation will include the continued evolution and rebranding of the program, as well as some of the high-impact initiatives Crime Stoppers has been spearheading, in partnership with the Toronto Police Service and the media, to make Toronto's communities safer.
REPORTS FROM CITY'S AUDITOR GENERAL
The Board will hear a presentation, and consider three reports from Beverly Romeo-Beehler, Auditor General, City of Toronto. The Board entered into a Memorandum of Understanding with the City's Auditor General in January 2021, seeking to have independent audits conducted of areas of the Service's operations.
The Auditor General's first report deals with an audit of the Public Safety Answering Point, 9-1-1 Operations, with a focus on staffing, and improved information management. The second report reviews certain types of calls-for-service that police currently respond to, and makes recommendations to support more effective responses which may ultimately generate efficiencies that the Service can use to address policing priorities that need attention, such as response times on emergency calls.
In addition, the Auditor General has published a third, "Key Common Themes" report to identify key common themes and findings across the two projects. Key themes include the need to improve and use data to enhance staffing and operational strategies, and ensure adequate resources are in place to address priority areas, as well as the need to explore alternative responses for certain lower-priority calls for service, to free up time for Priority Response Unit responders and 911 operators to respond to higher priority emergency calls and improve response times.
RACE-BASED DATA COLLECTION, ANALYSIS AND PUBLIC REPORTING
The Board will hear a presentation, and consider two reports on the subject of race-based data collection and analysis, both arising from the implementation of the Board's Race Based Data Collection, Analysis and Public Reporting Policy.
First, the Board will consider a report from the Chief which provides details from Phase 1 of the implementation of the Policy, a race-based data analysis as it relates to use of force and strip search data. The data analysis shows that, in 2020, there were differences by race in Use of Force incidents. The data shows distinct patterns for different race groups—Black, East/Southeast Asian, Middle Eastern and Latino people were over-represented in reported Use of Force incidents compared to their presence in police enforcement action. In addition, the data analysis shows there were disproportionalities in strip searches for Indigenous, Black and White people arrested. The report also notes that the Service has identified 38 action items as one part of our commitment to reduce disparate outcomes.
The Board will also consider a report from Dr. Lorne Foster, Full Professor & Director, Institute for Social Research at York University and Dr. Les Jacobs, Full Professor & Vice-President, Research and Innovation at Ontario Tech University, which contains an the independent expert assessment of the Service's Phase 1 analysis, pursuant to the Board's Policy. The independent assessment concludes with a range of recommendations to improve the Service's race-based data collection Strategy, including prompt public reporting of all race-based data findings, the development and implementation of an Indigenous engagement strategy for race-based data collection, and increasing the collection and analysis of intersectional subject data for future reporting, among other recommendations.
BUILDING A RESPECTFUL AND INCLUSIVE WORKPLACE
The Board will consider a number of reports and initiatives aimed at building and fostering a respectful and inclusive workplace. This includes the report by Deloitte Canada which included a comprehensive review of the Board and Service's current policies and procedures on workplace personnel matters. This review included assessing how harassment claims are managed, and focused on the attitudes, perceptions and experiences of Service Members, assessing wellness needs and identifying barriers that our Members may be facing.
The results of the Forum Research Equity and Inclusion Survey will also be considered, as well as the Bernardi White Paper, which focused on transforming police culture, premised on a commitment to eradicating harassment and discrimination in police services and to act as leaders in driving positive change in police culture.
As with all meetings, a recording of this meeting will be posted and archived to the Toronto Police Service YouTube account at
https://www.youtube.com/TorontoPolice
for members of the public to access later at their convenience.
We will keep the public and media updated on any future changes to the format of our meetings.
---
The Toronto Police Services Board is the civilian body responsible for governing the Toronto Police Service. The Board is responsible for ensuring the provision of adequate and effective police services in the City of Toronto, setting priorities and objectives for the Toronto Police Service, approving the annual police budget and selecting the Chief of Police.
---
Contact: Sandy Murray
sandy.murray@tpsb.ca
416-808-8090
You received this email because you subscribed to this mailing list on the TPSB website.

Click here to Unsubscribe