The Board Congratulates Police Officer Excellence Awards Winners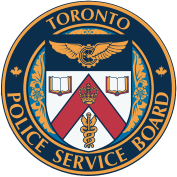 The winners of the Police Officer Excellence Award were announced during a ceremony held this morning at Toronto Police Headquarters. Due to the COVID-19 pandemic, the usual public awards ceremony could not take place.
The Police Officer Excellence Awards were created by the Board of Trade in 1967 as the Police Officer of the Year Awards, with the purpose of recognizing officers of the Toronto Police Service who have made significant contributions to making Toronto one of the safest cities in the world. The awards have evolved over time and have since been expanded to include the Service's civilian members as well. Winners are selected by a panel of judges which include media representatives, members of the community, and students, using the following criteria: bravery, humanitarianism, superior investigative work and outstanding police skills.
This year, the winners for the Police Officer Excellence Awards are:
- PC Joanne Tawton
- PC David Manserra
- PC Dale Swift
- Sgt. August Bonomo
- Sgt. Michael Fonseca
- Sgt. David Lim
- PC Alexandre Poltavets
- PC Richard Slater
- PC Todd Garbutt
- PC Brian McFadyen
- Det. John Margetson
- PC Benjamin Schneider
- PC Kristine Kiss
- Sgt. Royce MacDonald
- PC David Monteiro
- PC Zelijko Katanic
- PC Nathalie Urbas
- PC Sukhjit Gill
This year's winner for the Civilian Excellence Award is:
- SDO Penny Rivers
This year's winners for the Business Excellence Award are:
- Sgt. Brett Moore
- Sgt. Alex Crews
The winners' stories can be found here:
https://tpsb.ca/images/pdf/Police_Excellence_Awards_2020.pdf
Chair Jim Hart said, "these awards honour the excellence of our Service Members, their genuine dedication and commitment to the community, their admirable bravery and selflessness, and their true compassion and care for people. To each of the award winners, the Board honours your extraordinary contribution to enhancing community safety in our city, with deep gratitude and tremendous respect."
---
The Toronto Police Services Board is the civilian body responsible for governing the Toronto Police Service. The Board is responsible for ensuring the provision of adequate and effective police services in the City of Toronto, setting priorities and objectives for the Toronto Police Service, approving the annual police budget and selecting the Chief of Police.
---
Contact: Sandy Murray
sandy.murray@tpsb.ca
416-808-8090