Toronto Police Services Board will hold virtual Board Meeting on June 19, 2020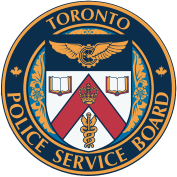 The Toronto Police Services Board's Board Meeting scheduled to take place on June 19, 2020 is
confirmed
to take place on that date. Given the current COVID-19 pandemic, and to protect the health and wellbeing of all involved, this Board Meeting will proceed
virtually
. Members of the public, as well as the media, will be able to join the meeting and there will be an opportunity to make deputations.
A detailed agenda, along with additional details regarding how to join and participate in this meeting will be released shortly.
As we all continue to navigate through this rapidly evolving and dynamic situation, the Board remains committed to its governance and oversight roles. Members of the public should also have the utmost confidence that both the Toronto Police Service and the Toronto Police Services Board remain focused on the public safety of our city.
---
The Toronto Police Services Board is the civilian body responsible for governing the Toronto Police Service. The Board is responsible for ensuring the provision of adequate and effective police services in the City of Toronto, setting priorities and objectives for the Toronto Police Service, approving the annual police budget and selecting the Chief of Police.
---
Contact: Sandy Murray
sandy.murray@tpsb.ca
416-808-8090