Cancellation of Toronto Police Services Board's Meeting Scheduled for March 26, 2020 Due to Impact of COVID-19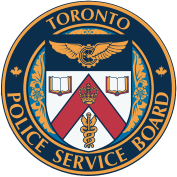 Please be advised that Chair Jim Hart has cancelled the Board meeting scheduled for Thursday March 26, 2020, due to the COVID-19 pandemic.
This decision has been made after careful consideration, including a thorough assessment of various factors related to the health and wellbeing of members of the public, Service Members, Board Members and Board Staff. The Province has declared a state of emergency, which prohibits public gatherings of over 50 individuals, reinforcing the previous strong recommendations from Toronto Public Health that no public gatherings or meetings should be held at this time. Government and health officials are also emphasizing the importance of individuals working from home and staying home as much as possible. The Board must play its role in mitigating the effects of the pandemic, and preventing further transmission. Protecting the health and safety of our community must be our overriding concern.
The Board is currently exploring alternatives to holding a regular Board meeting so that it can continue to make critical and timely decisions that flow from the Toronto Police Service's needs in relation to the pandemic. It is anticipated that any plans will be announced in the near future.
As we all continue to navigate through this rapidly evolving and dynamic situation, members of the public should have the utmost confidence that both the Toronto Police Service and the Board are committed to maintaining public safety. The Board, as always, is actively engaged in its civilian governance and oversight roles. As the employer of almost 8,000 Members of the Toronto Police Service, the Board is also heavily focused on the health and wellbeing of our Members.
The Board and its staff are in constant contact with Chief Saunders, as well as with City officials who are engaged in COVID-19-related efforts. We will continue to monitor developments as they unfold, and make decisions that are guided by expert advice and the public interest.
As more information becomes available and additional decisions are made by the Board, we will keep the public informed.
The Toronto Police Services Board is the civilian body responsible for governing the Toronto Police Service. The Board is responsible for ensuring the provision of adequate and effective police services in the City of Toronto, setting priorities and objectives for the Toronto Police Service, approving the annual police budget and selecting the Chief of Police.
Contact:
Sandy Murray
www.tpsb.ca
Senior Advisor, Toronto Police Services Board
(416) 808-8090