Toronto Police Services Board receives Chief's 2020 budget proposals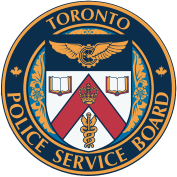 The Board welcomes public input on the proposed budgets at a public meeting
November 29, 2019
TORONTO – Chief Mark Saunders has submitted his budget proposals for 2020, including the Toronto Police Service's proposed Operating, Capital and Parking Enforcement Unit's budgets. The Board's Budget Committee will consider these proposals at a public meeting on December 5, 2019 from 9:00 a.m. – 1:00 p.m. in the Auditorium, 40 College Street.
The Board Budget Committee will consider and formulate recommendations with respect to the budget proposals that have been put forward by Chief Saunders, as well as with respect to the Board's own 2020 proposed Operating Budget. The agenda for the meeting, along with accompanying materials, are posted on the Board's website: http://tpsb.ca/budget-committee. The Budget Committee meeting may be viewed via LiveStream on YouTube using the following link: https://youtu.be/Y1xaRhUcumI
The Budget Committee will hear deputations from members of the public with respect to the various proposed budgets. Anyone wishing to make a deputation (of a maximum of 5 minutes) at the Budget Committee meeting should complete the web form at http://www.tpsb.ca/meetings/making-a-deputation no later than December 4, 2019 at 12:00 PM.
The Board as a whole will consider the proposed budgets, as well as the Budget Committee's recommendations, at its public meeting on December 16.
Chair Jim Hart welcomed the budget proposals put forward by Chief Saunders: "The Board is looking forward to considering the Chief's recommended budgets and hearing input from members of the public who depend on the brave men and women who proudly serve us each day. The Toronto Police Service continues to modernize so that it can deliver the services we need to keep our city safe, and enhance partnerships with the communities we serve. In a climate where we must all exercise fiscal responsibility, the Board will be looking to send a budget to Toronto City Council that makes responsible investments in front-line response, community policing, and specific initiatives that enhance public trust and accountability. The Board's Budget Committee provides an important venue to incorporate public input into this process, and we look forward to hearing from members of the public who are willing to share their views with us."
Contact:
Sandy Murray
www.tpsb.ca
Senior Advisor, Toronto Police Services Board
(416) 808-8090